Assassination attempt on Dhadrianwale left one dead near Ludhiana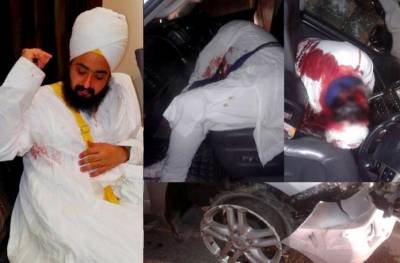 May 18, 2016 12:03 IST- Some un-identified shooters opened gun-fire at Bhai Ranjit Singh Dhadrianwale's procession on Tuesday near Ludiana distt of Punjab. One of his fellow preacher was killed in this brutal attack. The 36-year-old Dhadrianwale was however survived with minor wounds in this pre-planned assassination attempt. Local Police stated that in this incident Dhadrianwale and his group member were on their way to Isewal Town to participate in a Gurmat Samagam (Sikh devotional event) when they were attacked.
\r\n\r\n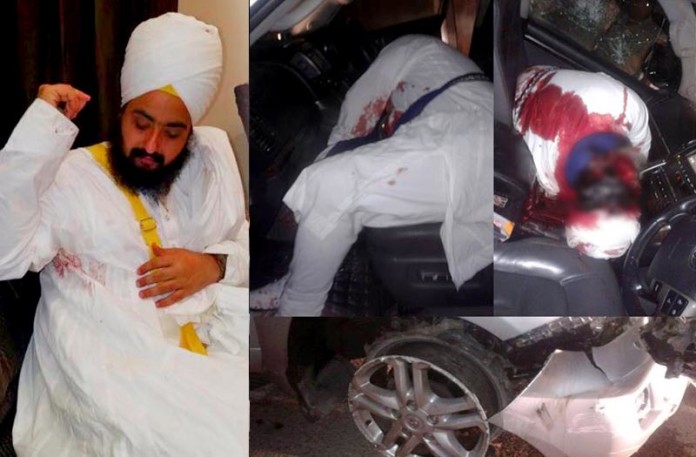 \r\n\r\n
Their car was stopped by some people in disguise of volunteers offering "Chhabeel" at about 8:00PM on Burewall Street. All of a sudden, approximately 15 men appeared with swords, guns, axes and steel bars. All of them performed a distributed attacked on vehicles.
\r\n\r\n
Bhai Bhupinder Singh, sitting on front seat of Toyota Land Cruiser, was hit by close gun-shot. Bhai Ranjit Singh often sit on front seat but Bhupinder Singh was sitting there that moment. Dhadrianwale was escaped due to mistaken identity as the killing shot was meant for him. Car driver immediately got the vehicle out of the obstruction, made by attackers, and drove away it away as far as he could. said a police official.
\r\n\r\n
The assassins followed Bhai Ranjit Singh's Toyota car using 3-4 SUVs till next 5 kilometers. Dhadrianwale's driver was able to took car into fields towards a under-construction school building and took shelter with workers on that site. Then the police was informed.
\r\n\r\n
Bhupinder Singh Dhakki Sahibwale who endured a discharge twisted to the head, was raced to the Dayanand Medicinal School and Healing facility. He, be that as it may, couldn't be saved. Dhakki's supporters raised mottos at the doctor's facility, requesting strict activity against the assailants. Substantial police drive was conveyed in the territory to keep peace. Afterward, Bhai Ranjit Singh Khalsa announced that it was a pre-arranged assault. "The aggressors had set up a fake "chabeel" and the minute we backed off, around twelve outfitted attackers opened fire at us," he said.
\r\n\r\n
Justice H S Phoolka @hsphoolka commented on this attack saying "Dhadrianwale is highly respected & loved by Sikh panth. assassination attempt on him is a cowardly act."
\r\n\r\n
Following are the headlines from major newspapers:
\r\n\r\n

Donate for ParmesharDwar
Send your donations for Sewa and Projects being done by ParmesharDwar Gurmat Parchar Charitable Mission. Use the number below to send using PayTM or Google Pay.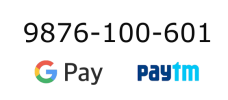 Radio Dhadrianwale 24x7
Listen latest kirtan 24x7 by Bhai Ranjit Singh Ji Khalsa Dhadrianwale
Use second player for Chrome
Dhadrian wale Mobile Apps
Sangats' Feedback
"Bipar wali aarti at patna sahib"
Bhai Sahib I am highly pleased by listening to your diwans. I went to Patna Sahib in March. They did Aarti with thaal and deewa in the evening which is opposite to gurmat. But I kept quite because they wont listen to anyone about their karmkands.
_ Onkar Singh ex serviceman, Hoshiarpur
Got something to share? Write us now!
Dhadrianwale News
Dhadrianwale Kirtan Schedule
Tag Cloud