Dhadrianwale Clip Videos - Bhai Ranjit Singh Ji Khalsa
Credibility is a valuable attribute in a today's corrupt and materialistic world. There exist but few honest people like Bhai Ranjit Singh Dhadrianwale, as Gurbani says "Hain virle nahe Ghanne". Such people normally dont care what peers think of them. They are interested in doing it with a refreshed mindset. Such sikhs has always stood for what they believe. What matters most to them is how to provide Guru Sahib's message in its purest and intact form. Many sikh figures of brahmin thinking used gurbani for their own benefit and created a endless web of myths. Untrue stories and fabricated translations were used to cheat innocent people. Very few of them sticked to original concept of gurmat wisdom, social welfare and need of fulfilling our duties with utmost passion. These virtue plays for benefit of common person but has adverse effect on peers of opposite orthodox mentality. The corrupt section will always try to throw dirt on good people by making false allegations and using abusing language. Bhai Sahib always tend to answers these allegations in open public during his preaching. His opponents are always prove wrong after making such hateful attempts. In this section, We provide short clips where Bhai Sahib addresses the Sangat about such incident. Reaction of Sangat is also included on several occasions.
New video categories added for Bhai Ranjit Singh Ji Dhadrianwale
We initially added all available videos for Bhai Sahib without any filtering options. Sangat frequently asked us to provide some sort of quick listing of videos to their liking. On their repeaded requests, We have added following filters in this video sections. You can now watch Dhadrianwale videos as per your choice by selecting any of the following links. Please send your feedback on this and any other feature you want us to add to Parmeshardwar website or official Parmeshardwar - Dhadrianwale Android app and Parmeshardwar-Dharianwale iOS app.
All videos Bhai Ranjit Singh Ji Khalsa Dhadrianwale
Full diwan videos Bhai Ranjit Singh Ji Khalsa Dhadrianwale
Dharna videos Bhai Ranjit Singh Ji Khalsa Dhadrian Wale
Gurbani Videos Bhai Ranjit Singh Ji Khalsa Dhadrianwale
Poem videos Bhai Ranjit Singh Ji Khalsa Dhadrian Wale
Videos clips Bhai Ranjit Singh Ji Khalsa Dhadrianwale

Donate for ParmesharDwar
Send your donations for Sewa and Projects being done by ParmesharDwar Gurmat Parchar Charitable Mission. Use the number below to send using PayTM or Google Pay.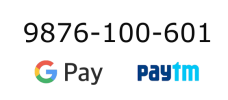 Radio Dhadrianwale 24x7
Listen latest kirtan 24x7 by Bhai Ranjit Singh Ji Khalsa Dhadrianwale
Use second player for Chrome
Dhadrian wale Mobile Apps
Sangats' Feedback
"Guru Granth Sahib di sikhya jiwan da base hai"
Mai indian army ch as para comando job krda. mai paawe proper gursikh nai par guru sahib de sidhant te chlan di koshish krda bhai saab da diwan aksar sunda rehna m mehsoos krda ki guru grath sahib ch jo guru sahiban ne dseya o ek base aa. Jive sanu training ch sikhaya janda ki apa operation jaa rhe aa fire aya ta apa kis tarah kise v cheej di aad laike bachna, par o ek basic gal h har jagah alag operation hunda te alag situation andiyan. ose tarah guru sahib ne v sanu basic jindgi di buniyad dsi aa ohnu follow krke apa ajj di technologies nu use krna te jindgi ch superior community bananna. o base h usnu use krke age vadna naa ki dusre kathaa vachak diya sunke bass sharda rakhni ki hoju hoju. bass m ena kehna c. I am only 27year old but koshish krda tark kr k jidgi jiye. Thank you Bhai Sahib Ji
_ Gurjant singh, Himachal Pradesh - India
Got something to share? Write us now!
Dhadrianwale News
Dhadrianwale Kirtan Schedule
Tag Cloud