Contact Us | Dhadrianwale | ParmesharDwar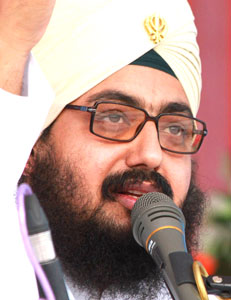 Following is the official contact information for Bhai Ranjit Singh Dhadrianwale and Gurdwara Parmeshar Dwar Sahib. It is evident that Bhai Sahib does not wish to be called as Sant Baba Ranjit Singh Dhadrianwale. So please refer to him only as Bhai Ranjit Singh Khalsa Dhadrian wale. Feel free to call by phone or use the contact form below. Phone numbers are give for directly contacting Gurdwara Parmeshar Dwar Sahib and Dhadrian Wale. For issues related to website and Dhadrianwale - Parmeshardwar mobile app, please use the contact form. We will try our best to respond to sikh sangat in a timely manner.
Gurdwara Parmeshar Dwar Sahib
Shekhupur, P.O: Barsat,
Patiala, Punjab-147201
+91 9872600107, +91 9464900028
Use the form provided here.
Website Related
+91 9555955013
Please use the form provided here for matters related to website.