Call me a brother instead of Baba or Sant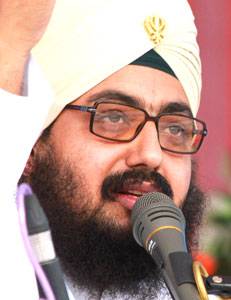 Bhai Ranjit Singh Dhadrianwale has a large number of supports and followers in India and other countries wherever there are sikhs living.
\r\n\r\n
Dhadrianwale is a Sikh religious figure who survived an assassination attempt last week. He is popular and famous preacher that was fist to protests on the Guru Granth Sahib desecration incidents last year. In these protests he came into his own as a bold and fearless person who could speak against the then state officials.
\r\n\r\n
Radio Dhadrianwale 24x7
Listen latest kirtan 24x7 by Bhai Ranjit Singh Ji Khalsa Dhadrianwale
Useful Links
Sangats' Feedback
"We dont live by actual message of Gurbani"
Sat siri Akal I have been hearing the videos by Sh Dhandiarvale.Your message that the God is within you is definitely the message by Guru Nanak throughout Gurbani. We are not living by it. I have been feeling that we have not understood gurbani and only going by the visible meanings of the Gurbani and do not go into depth of the words which are for Personal and Spiritual development of the man.
_ Major Surinder Singh, Punjab
Dhadrianwale News
Dhadrianwale Kirtan Schedule