Bhai Ranjit Singh Dhadrian Wale Photo Gallery
Guru Manyo Granth Chetna Samagams are organized by Gurdwara Parmeshar Dwar Gurmat Parchar Mission in Punjab, rest of India and many countries worldwide. Latest photographs from all these programs are uploaded to photo albums for sangat. You can browse and download high-quality photographs from these photo galleries.

If you have any good quality, originally-taken photo of Bhai Sahib or ParmesharDwar Sahib, please feel free to mail it to baani.harjeet[at_the_rate]gmail.com. We will make best attempt to get it listed.

Please select a photo album to see all photographs in it.

Donate for ParmesharDwar
Send your donations for Sewa and Projects being done by ParmesharDwar Gurmat Parchar Charitable Mission. Use the number below to send using PayTM or Google Pay.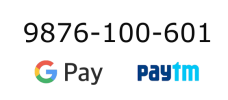 Radio Dhadrianwale 24x7
Listen latest kirtan 24x7 by Bhai Ranjit Singh Ji Khalsa Dhadrianwale
Use second player for Chrome
Dhadrian wale Mobile Apps
Sangats' Feedback
"Thanks for making me see the world in a way no one else ever has"
Waheguru ji ka khalsa, waheguru ji ki fateh I am sukhleen kaur. I am 17 years old. I am living in jalandhar. I wish could see baba ji sometime. Baba ji thank you so much! For make me see the world in a way no one else ever has. Baba ji changed so many people's life through their Diwans, Vichar. I know when baba ji have to speak on a stage, he always read a lot. We are always in baba ji site. Thank you so much. Waheguru ji ka khalsa, Waheguru ji ki fateh
_ Sukhleen kaur, Jallandhar
Got something to share? Write us now!
Dhadrianwale News
Dhadrianwale Kirtan Schedule
Tag Cloud