Jis jis naal vichar nahi milde ki usnu marna jaij hai ਜਿਸ ਨਾਲ ਵਿਚਾਰ ਨਹੀਂ ਮਿਲਦੇ ਕੀ ਉਸਨੂੰ ਮਾਰਨਾ ਜਾਇਜ ਹੈ - DhadrianWale
ijs nwl ivcwr nw imldy kI aus nMU mwrnw jwiej hY ?
Clip MP3 Audio by Bhai Ranjit Singh Ji khalsa Dhadrian wale
Explore more mp3 Dharna, Poem, Shabad and Full Diwan audio recordings by Bhai Ranjit Singh Ji Dhadrianwale
More Gurbani MP3 by Bhai Ranjit Singh Dhadrianwale

Donate for ParmesharDwar
Send your donations for Sewa and Projects being done by ParmesharDwar Gurmat Parchar Charitable Mission. Use the number below to send using PayTM or Google Pay.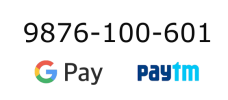 Radio Dhadrianwale 24x7
Listen latest kirtan 24x7 by Bhai Ranjit Singh Ji Khalsa Dhadrianwale
Use second player for Chrome
Dhadrian wale Mobile Apps
Sangats' Feedback
"You are carrying the light and message of our visionary Baba Nanak"
Guys - yes will call you guys - if Baba Nanak was around today he will call you Guys as he sees no difference in people who are one and equal to the creator. Guys, you are carrying the light and message of our visionary Baba Nanak which is forgotten and distorted by many generations. Thank you for doing what you are going and keep faith. There are many who may not be identified as Sikh but we share the same values of Baba Nanak and his message. Guys you all are doing a good work by keeping the message alive...bless you all....
_ Richard Lal, UK
Got something to share? Write us now!
Dhadrianwale News
Dhadrianwale Kirtan Schedule
Tag Cloud