Shabad - Teri Bhagat Na Chhodau | Bhai Ranjit Singh Dhadrianwale
qyrI Bgiq n Cofau BwvY logu hsY
Shabad Video by Bhai Ranjit Singh Ji Khalsa DhadrianWale.

Gurbani Shabad Kirtan bhai Bhai Ranjit Singh Ji Khalsa Dhadrianwale
Uploaded by on
31.10.2020



Gurbani Shabad
bsMqu bwxI nwmdyau jI kI
<> siqgur pRswid ]
swihbu sMktvY syvku BjY ]
icrMkwl n jIvY doaU kul ljY ]1]
qyrI Bgiq n Cofau BwvY logu hsY ]
crn kml myry hIAry bsYN ]1] rhwau ]
jYsy Apny Dnih pRwnI mrnu mWfY ]
qYsy sMq jnW rwm nwmu n CwfYN ]2]
gMgw gieAw godwvrI sMswr ky kwmw ]
nwrwiexu supRsMn hoie q syvku nwmw ]3]1]
Gurbani Shabad Translation
Basant, The Word Of Naam Dayv Jee:
One Universal Creator God. By The Grace Of The True Guru:
If the servant runs away when his master is in trouble,
he will not have a long life, and he brings shame to all his family. ||1||
I shall not abandon devotional worship of You, O Lord, even if the people laugh at me.
The Lord's Lotus Feet abide within my heart. ||1||Pause||
The mortal will even die for the sake of his wealth;
in the same way, the Saints do not forsake the Lord's Name. ||2||
Pilgrimages to the Ganges, the Gaya and the Godawari are merely worldly affairs.
If the Lord were totally pleased, then He would let Naam Dayv be His servant. ||3||1||

Donate for ParmesharDwar
Send your donations for Sewa and Projects being done by ParmesharDwar Gurmat Parchar Charitable Mission. Use the number below to send using PayTM or Google Pay.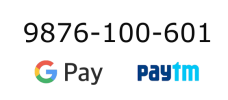 Radio Dhadrianwale 24x7
Listen latest kirtan 24x7 by Bhai Ranjit Singh Ji Khalsa Dhadrianwale
Use second player for Chrome
Dhadrian wale Mobile Apps
Sangats' Feedback
"Guru Granth Sahib di sikhya jiwan da base hai"
Mai indian army ch as para comando job krda. mai paawe proper gursikh nai par guru sahib de sidhant te chlan di koshish krda bhai saab da diwan aksar sunda rehna m mehsoos krda ki guru grath sahib ch jo guru sahiban ne dseya o ek base aa. Jive sanu training ch sikhaya janda ki apa operation jaa rhe aa fire aya ta apa kis tarah kise v cheej di aad laike bachna, par o ek basic gal h har jagah alag operation hunda te alag situation andiyan. ose tarah guru sahib ne v sanu basic jindgi di buniyad dsi aa ohnu follow krke apa ajj di technologies nu use krna te jindgi ch superior community bananna. o base h usnu use krke age vadna naa ki dusre kathaa vachak diya sunke bass sharda rakhni ki hoju hoju. bass m ena kehna c. I am only 27year old but koshish krda tark kr k jidgi jiye. Thank you Bhai Sahib Ji
_ Gurjant singh, Himachal Pradesh - India
Got something to share? Write us now!
Dhadrianwale News
Dhadrianwale Kirtan Schedule