Tirath Hamra Har ko Naam | DhadrianWale
qIrQ hmrw hir ko nwmu
Shabad Video by Bhai Ranjit Singh Ji Khalsa DhadrianWale.

Tirath Hamra Har ko Naam
Uploaded by on
17.09.2020



Gurbani Shabad
BYrau mhlw 5 ]
nwmu lYq mnu prgtu BieAw ]
nwmu lYq pwpu qn qy gieAw ]
nwmu lYq sgl purbwieAw ]
nwmu lYq ATsiT mjnwieAw ]1]
qIrQu hmrw hir ko nwmu ]
guir aupdyisAw qqu igAwnu ]1] rhwau ]
nwmu lYq duKu dUir prwnw ]
nwmu lYq Aiq mUV suigAwnw ]
nwmu lYq prgit aujIAwrw ]
nwmu lYq Cuty jMjwrw ]2]
nwmu lYq jmu nyiV n AwvY ]
nwmu lYq drgh suKu pwvY ]
nwmu lYq pRBu khY swbwis ]
nwmu hmwrI swcI rwis ]3]
guir aupdysu kihE iehu swru ]
hir kIriq mn nwmu ADwru ]
nwnk auDry nwm punhcwr ]
Avir krm lokh pqIAwr ]4]12]25]
Gurbani Shabad Translation
Bhairao, Fifth Mehl:
Repeating the Naam, the Name of the Lord, the mortal is exalted and glorified.
Repeating the Naam, sin is banished from the body.
Repeating the Naam, all festivals are celebrated.
Repeating the Naam, one is cleansed at the sixty-eight sacred shrines. ||1||
My sacred shrine of pilgrimage is the Name of the Lord.
The Guru has instructed me in the true essence of spiritual wisdom. ||1||Pause||
Repeating the Naam, the mortal's pains are taken away.
Repeating the Naam, the most ignorant people become spiritual teachers.
Repeating the Naam, the Divine Light blazes forth.
Repeating the Naam, one's bonds are broken. ||2||
Repeating the Naam, the Messenger of Death does not draw near.
Repeating the Naam, one finds peace in the Court of the Lord.
Repeating the Naam, God gives His Approval.
The Naam is my true wealth. ||3||
The Guru has instructed me in these sublime teachings.
The Kirtan of the Lord's Praises and the Naam are the Support of the mind.
Nanak is saved through the atonement of the Naam.
Other actions are just to please and appease the people. ||4||12||25||

Donate for ParmesharDwar
Send your donations for Sewa and Projects being done by ParmesharDwar Gurmat Parchar Charitable Mission. Use the number below to send using PayTM or Google Pay.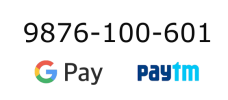 Radio Dhadrianwale 24x7
Listen latest kirtan 24x7 by Bhai Ranjit Singh Ji Khalsa Dhadrianwale
Use second player for Chrome
Dhadrian wale Mobile Apps
Sangats' Feedback
"Guru Granth Sahib di sikhya jiwan da base hai"
Mai indian army ch as para comando job krda. mai paawe proper gursikh nai par guru sahib de sidhant te chlan di koshish krda bhai saab da diwan aksar sunda rehna m mehsoos krda ki guru grath sahib ch jo guru sahiban ne dseya o ek base aa. Jive sanu training ch sikhaya janda ki apa operation jaa rhe aa fire aya ta apa kis tarah kise v cheej di aad laike bachna, par o ek basic gal h har jagah alag operation hunda te alag situation andiyan. ose tarah guru sahib ne v sanu basic jindgi di buniyad dsi aa ohnu follow krke apa ajj di technologies nu use krna te jindgi ch superior community bananna. o base h usnu use krke age vadna naa ki dusre kathaa vachak diya sunke bass sharda rakhni ki hoju hoju. bass m ena kehna c. I am only 27year old but koshish krda tark kr k jidgi jiye. Thank you Bhai Sahib Ji
_ Gurjant singh, Himachal Pradesh - India
Got something to share? Write us now!
Dhadrianwale News
Dhadrianwale Kirtan Schedule