Sajjan Mere Rangle New Shabad Full HD Dhadrianwale
sjx myry rMguly jwie suqy jIrwix
Shabad Video by Bhai Ranjit Singh Ji Khalsa DhadrianWale.

Sajjan Mere Rangle New Gurbani Shabad Kirtan Full HD video by Dhadrianwale
Uploaded by on
11.11.2016



Gurbani Shabad
isrIrwgu mhlw 1 Gru 2 ]
Dnu jobnu Aru PulVw nwTIAVy idn cwir ]
pbix kyry pq ijau Fil Fuil juMmxhwr ]1]
rMgu mwix lY ipAwirAw jw jobnu nau hulw ]
idn QoVVy Qky BieAw purwxw colw ]1] rhwau ]
sjx myry rMguly jwie suqy jIrwix ]
hM BI vMw fumxI rovw JIxI bwix ]2]
kI n suxyhI gorIey Awpx kMnI soie ]
lgI Awvih swhurY inq n pyeIAw hoie ]3]
nwnk suqI pyeIAY jwxu ivrqI sMin ]
guxw gvweI gMTVI Avgx clI bMin ]4]24]
Gurbani Shabad Translation
Siree Raag, First Mehl, Second House:
Wealth, the beauty of youth and flowers are guests for only a few days.
Like the leaves of the water-lily, they wither and fade and finally die. ||1||
Be happy, dear beloved, as long as your youth is fresh and delightful.
But your days are few-you have grown weary, and now your body has grown old. ||1||Pause||
My playful friends have gone to sleep in the graveyard.
In my double-mindedness, I shall have to go as well. I cry in a feeble voice. ||2||
Haven't you heard the call from beyond, O beautiful soul-bride?
You must go to your in-laws; you cannot stay with your parents forever. ||3||
O Nanak, know that she who sleeps in her parents' home is plundered in broad daylight.
She has lost her bouquet of merits; gathering one of demerits, she departs. ||4||24||

Donate for ParmesharDwar
Send your donations for Sewa and Projects being done by ParmesharDwar Gurmat Parchar Charitable Mission. Use the number below to send using PayTM or Google Pay.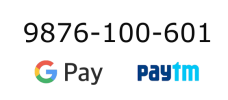 Radio Dhadrianwale 24x7
Listen latest kirtan 24x7 by Bhai Ranjit Singh Ji Khalsa Dhadrianwale
Use second player for Chrome
Dhadrian wale Mobile Apps
Sangats' Feedback
"Tusi Mera Dimag Khol Dita"
Mai lovejeet singh mai last 2 month to bhai sant ranjeet singh ji de youtube te sabd kirtn sun riha ha. Mai bhago wali video, jo bhai santokh singh de likhe granth suraj parkash, da app ji ne arth kita os nu ta loka ne ik mudda hi bna lia ji. mai thuade to 100% santust ha ji mera v sach nall hi rista hai ji. app ji ne ta jo sach c loka age pesh kitta ji but appne kuch lok murkh ne ji aina de nai samj auna ji jo app samjona chaunde ho ji. mai thuade gyan to santust ha ji tusi mera dimag khol ditta mai gurbani padda ha sach da rasta fadia hai phela bhatak riha c. mai v pind ch loka nu bhaut samjonda ha meri kai var bhaes v hundi hai kai samj jande ne, kai nai samjde ji kyunki loka tak phela ae gyan paunchia hi nai gya. na hi kise wich himat hai ji thuade khen vangu ji jo v sach bolda hai kade shabil lag jandi aa ya jhoota kes ho janda ji. app ji de sadka hi meri soch badli hai ji life jion da dang ayia hai ji.
_ Lovejeet Singh - Nangal - Punjab
Got something to share? Write us now!
Dhadrianwale News
Dhadrianwale Kirtan Schedule