Shabad - Deen Bisareo Re Diwane - Canada 2018 | DhadrianWale
dInu ibswirE ry idvwny dInu ibswirE ry
Shabad Video by Bhai Ranjit Singh Ji Khalsa DhadrianWale.

Guru Manyo Granth Chetna Samagam - Shabad - Deen Bisareo Re Diwane - Canada 2018
Uploaded by on
25.06.2018



Gurbani Shabad
mwrU kbIr jIau ]
dInu ibswirE ry idvwny dInu ibswirE ry ]
pytu BirE psUAw ijau soieE mnuKu jnmu hY hwirE ]1] rhwau ]
swDsMgiq kbhU nhI kInI ricE DMDY JUT ]
suAwn sUkr bwies ijvY Btkqu cwilE aUiT ]1]
Awps kau dIrGu kir jwnY Aaurn kau lg mwq ]
mnsw bwcw krmnw mY dyKy dojk jwq ]2]
kwmI kRoDI cwqurI bwjIgr bykwm ]
inMdw krqy jnmu isrwno kbhU n ismirE rwmu ]3]
kih kbIr cyqY nhI mUrKu mugDu gvwru ]
rwmu nwmu jwinE nhI kYsy auqris pwir ]4]1]
Gurbani Shabad Translation
Maaroo, Kabeer Jee:
You have forgotten your religion, O madman; you have forgotten your religion.
You fill your belly, and sleep like an animal; you have wasted and lost this human life. ||1||Pause||
You never joined the Saadh Sangat, the Company of the Holy. You are engrossed in false pursuits.
You wander like a dog, a pig, a crow; soon, you shall have to get up and leave. ||1||
You believe that you yourself are great, and that others are small.
Those who are false in thought, word and deed, I have seen them going to hell. ||2||
The lustful, the angry, the clever, the deceitful and the lazy
waste their lives in slander, and never remember their Lord in meditation. ||3||
Says Kabeer, the fools, the idiots and the brutes do not remember the Lord.
They do not know the Lord's Name; how can they be carried across? ||4||1||

Donate for ParmesharDwar
Send your donations for Sewa and Projects being done by ParmesharDwar Gurmat Parchar Charitable Mission. Use the number below to send using PayTM or Google Pay.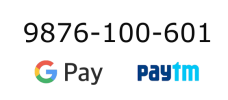 Radio Dhadrianwale 24x7
Listen latest kirtan 24x7 by Bhai Ranjit Singh Ji Khalsa Dhadrianwale
Use second player for Chrome
Dhadrian wale Mobile Apps
Sangats' Feedback
"You have helped to open my eyes"
Thank you Bhai Ranjit Singh Dhadriwale. I have been raised in USA. I was so confused with the Sikh teachings because I didn't understand them. I started listening to you when you came to Yuba City in 2016. The way you teach and preach has helped me so much to learn about the Gurus and Sikhi. Thank you brother for your wisdom and teaching. You have helped to open my eyes. Thank you brother and continue the good work you are doing. We support you!
_ Amandeep Kandola, Californa - USA
Got something to share? Write us now!
Dhadrianwale News
Dhadrianwale Kirtan Schedule